Customer Testimonials



A Confidence Driving School in the News!
---
Client Testimonials
22 June 2017
I had Gwen Radey as my instructor and hands down not only is she an amazing instructor, but person as well! I had my learners for 23 years and she was able to show and teach me how to correct my bad habits that I developed over that time. I did the 5 sessions with her and because I always self doubt myself, I paid for a 6th lesson. BUT today June 13th, 2017 I went for my driving test and passed.  I could t have done it without her knowledge and patience and I'm beyond grateful for having her as my instructor!! Thank you Gwen!! You have literally changed my life and opened so many doors to life you have no idea!!
Sincerely,
Jessica
---
2 June 2017
Gwen was the person responsible for making me not only pass the road test, but also making me feel confident enough about myself to drive. Passing the road test was a mere consequence of her great work.
Gwen taught me that I have to believe in myself, that making mistakes is part of the process and you have to learn from them, and also she made me CONFIDENT about driving. She is a patient, knowledgeable, energetic and positive person. I had not only an instructor during my classes, but also a friend for life. Thank you so much for everything, Gwen!
PS. I would like to thank Harold too for all the all the information he gave to me before I scheduled my first class, and for introducing me to Gwen. I certainly recommend Confidence Driving School! 
Aline
---
9 Feb 2017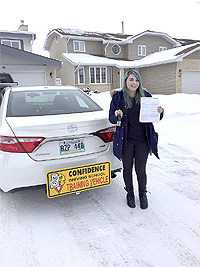 Today I experienced something that at one point seemed like a distant dream, a hope for something that didn't seem possible; Today I got my driver's licence.

Looking back on my fears of driving, all of them seem completely rational, thinking about who I was before I found Harold Tabin at A Confidence Driving School, it's easy to understand why I was so afraid to get behind the wheel. The only way to combat my fear of driving was to stifle it with knowledge.

Harold Tabin not only provided the knowledge, skills, and experience needed in order to successfully work my way around the everyday encounters that you typically address while driving, but he also made sure I was prepared for every and any situation that could come about while on the road which made it a lot easier for me to overcome my anxiety. Knowing that I was investing my time with a company and a person who made sure to not only address the situation at hand, but also give me the knowledge for future occurrences, confirmed my belief that I had definitely chosen the right person to help me obtain the goal that I had for so many years.

Although I did not get my licence on my first attempt of the road test, Harold did not give up on me and made sure to continue with the utmost respect and patience to work with my last little bits of overthinking tendencies and self-doubt that were preventing me from my overall success. Harold is not only an amazing instructor, but an all around great person who not only shows dedication to his profession, but also genuine compassion to his students.

Thank you A Confidence Driving School for allowing my distant dream to become a reality. I truly could not have done this without you!
Hailey K., 21
---
December 2016
"After only a month and a half of lessons with Confidence Driving School I was able to pass my road test on the first try coming from almost no road experience. Not only were the lesson affordable and in-depth but now I am able to drive and actually enjoy it! Harold and his team of instructors have lots of experience and genuinely want success for all their students. I would highly recommend them to anyone learning how to drive!"
Kevin T.  Age 24
---
14 November 2016
A-Confidence Driving School is by far the best in the business. Harold is very professional and was able to help me overcome my fears of the road. Within two lessons I was comfortable on the road was eager to learn from him. Her was patient and yet firm with his instruction, which was just the right balance to give me the confidence I needed.
I would highly recommend this school. I am now a confident and safe driver and give it all to him and his expertise. Thank you.
Pamela
---
September 15th, 2016
Dear Gwen,

I was never one to really need my license, I was fortunate enough to get rides or have simple and quick bus routes during high school. But soon after I graduated from high school and got my first job I realized how convenient and helpful it would be to have my license. I was at the time nervous, lacking practice, and confidence. So I was hesitant and kept putting it off uncertain how to proceed. I told a friend about my driving anxiety and she offered to help me start out. I was extremely uneasy and cautious my first time driving. I had no clue what I was doing. Although she did help me get started, she just wasn't able to teach me like a driving instructor could due to her time constraints. I decided to look up a few driving schools which brought me to the Confidence Driving school website. I read all of the testimonials listed and was immediately inspired to schedule an appointment. Prior to my lessons with Gwen I had just driven in empty parking lots and small neighborhoods a couple times. So naturally I was nervous driving down busy roads for the first time, but with Gwen I noticed a difference after the first lesson. She recognized my inexperience and taught me at a pace which I was comfortable with. She made me laugh and I always had a smile on my face when I began and finished my lesson. She is a great person to be around and an even better instructor. I can confidently say with anyone else I would not have been able to pick up on driving as quickly as I did. With so little prior experience I passed my road test in a little over two months after my first lesson, only needing eight lessons total. I could not be more satisfied with Confidence Driving school. I recommend Gwen and Confidence Driving school to all who are looking to get their license. 
Sincerely, Jory
---
April 29th, 2016
I'm writing this testimonial just after an hour of having passed my road test. For me it has truly been a long time coming. Shortly before turning 18 (I'm currently about to turn 25) I was taking lessons and promised myself that I was going to get my license as an 18th birthday present to myself. Despite being a nervous wreck the day of my road test, my driving instructor did nothing to console me, and inevitably I failed. That was seven years ago! Between failing my first attempt at a road test up until the end of March of this year, I'd driven a couple times, short distances, I'd move the car if needed, I'd drive a longer route only if I knew it like the back of my hand, but I would do all this being so terrified on the inside.
Any time I would think about driving or get into the drivers seat, my stomach was in knots. In the last 7 years, I've booked lessons through other driving instructors/driving schools and near the end of my lessons I would never feel confident enough in myself to book a road test. I was still so scared of being "the driver". I let seven years go by, thinking that if I just avoided driving, the idea would eventually stop being important to me. Well, it didn't. It got worse and worse, and I just perpetuated this fear by sitting at home some days, imagining all of the horrible things that COULD happen if I started to drive. I would literally make myself sick, thinking about driving. I also can't explain how embarrassing it has been for me to watch my younger cousins get their licenses at the age of 16, or have my friends/family pick me up all the time because I couldn't drive, which in turn always lead to "When are you going to get your license? Aren't you tired of taking the bus everywhere? What do you plan on doing when you have kids and they need to be places? Don't you care that your boyfriend has to drive you everywhere?" When people would hurl these questions at me, I'd try my best to give rational answers that were hiding mostly excuses. These questions had had me feeling sad about driving for so long.
One day I was sitting at home and randomly started recounting every driving experience I'd ever had behind the wheel, I started thinking about what my future would be like if I never faced my fear of driving, I thought about my future children and what it would mean for them if I couldn't drive, I realized in that moment how crippled I was by this fear. It was the one thing that weighed so heavy on my mind, that it kept me from being a completely, independent person. All these thoughts brought on tears, I was sitting alone, crying about the fact that I had never been strong enough to just get out and start driving. This is when my search began. I started looking at driving schools that "specialized" in teaching people who were nervous about driving. I came across a couple of different options, and settled on Confidence Driving School, despite having seen cheaper options. I read the testimonials and was still in tears while reading all the great feedback from people just like me, who had been putting off driving, but eventually got the courage and confidence through Confidence Driving School. Immediately after reading all of the testimonials, I called their number, at this point not even caring what the prices were like. Something just told me that this would be the end of my excuses.
Harold picked up the phone with his 'professional' Harold voice and said "Confidence Driving School. May I help you?" In that moment I explained how nerve wracking it was for me to be behind the wheel, and that I'd put this off for almost the last decade and that I was basically a mess. He laughed, told me that I shouldn't worry, and that my kind of nervousness was his cup of tea. I booked 5 lessons with Harold, booked a road test date after the second lesson, and ended up adding two additional lessons because he genuinely took the time to sit with me one day, ask how I was doing, and how we should proceed. When I told him how anxious I was feeling he suggested two more lessons before taking my road test, I agreed.
Harold made me laugh almost the entire time we drove together. He has the typical sense of humor of a Dad, which was comforting. He never made me feel judged, or stupid, or feel like a bad driver. He always celebrated when I made progress while driving, and always explained how to correct the mistakes I would make. He also went a step further and would find the reason as to why I was making certain driving errors. He was so patient and understanding throughout our time together. I can't thank him enough for teaching me this valuable skill. Not only do I know how to drive, I know how to drive safely.
Today is April the 29th, 2016. I had my road test this morning at 10:15AM. Harold picked me up at 8:45AM, which marked our 7th lesson together. After practicing parking, driving, and blasting tunes with Harold on the way to MPI, I took my road test and I passed!!! My nerves were going the entire way to MPI, as well as during my road test. Before going in, Harold made me promise him, that if I failed my road test, that we would keep working at it together, and that this would not be the last time we would see each other if that were the case. I was shocked that he actually cared enough to address what would come after my test if I didn't succeed. This in itself almost made me more confident about the future. Harold was able to make me laugh as I was on my way out the door to do my test, and told me to just keep my eyes up. He had so much confidence in me that as soon as I got onto the road for my test, I told myself 'I know what I'm doing'. I took my time, kept my eyes up and open, I was focused and I just imagined that it was Harold sitting silently in the passenger seat.
To finish off this novel of a testimonial, I'd just like to thank Harold once more for helping me find this new independence and for being such a great, calm, and funny teacher. To anyone reading this wondering if this is the driving school for you, it is. Honestly, if I can do it, you can too. Call Confidence Driving School, explain your situation, and take control. Stop feeling lousy for your fear of driving, it happens to the best of us, we just have to do what it takes to get over it, and it makes a world of difference if you've got the best teacher.
Erhica
Age 25
---
July 21, 2015
Hi Harold,
I wanted to express my deepest gratitude for all your help, patience and fun outlook while teaching me how to drive responsibly and confidently. I have struggled with driving since I got my learners when I was sixteen and I decided this summer would be it, I would get my license. I looked up driving schools and was immediately impressed with the testimonials that I thought, hey wouldn't it be cool if I was on there one day. Well I'm happy to say that after taking twelve lessons with Harold at confidence and practicing with family I passed on my first try. Thank you so much for helping me get past my driving fears and become a competent and safe driver on the road. You made the whole driving experience fun and I felt supported and encouraged the whole time. Thank you very much.
Ali B
---
April 27, 2015
Hi Harold –
I wanted to write to you to thank you for all of your help and patience while teaching me how to drive. It's been a long time coming and I know that you know how much I've struggled with it over many years. I am hoping that my story will help others that suffer from a fear of driving gain the courage necessary to face those fears and learn to drive
I'm 31 years old and have never had a license. (Not for lack of trying) I would tell people that I have a phobia of driving. I'd get behind the wheel of a car and immediately start to cry, and shake, and feel nauseous, and sweat and it really, was such a negative experience, that I decided for many years; that driving wasn't worth getting over my fears. As time passed I found that more and more things hinged on me getting my license like wanting to buy a house out of town, my husband being sent on business trips, leaving me with two children and no vehicle in the middle of winter, to simple convenience- not wanting to make my husband do all the driving for our entire family. I decided it was time to bite the bullet and get over my fear. I called Harold and told him my story and thus began a series of driving lessons.
It wasn't the first time I had tried to get over my fear and learn to drive but I was determined that it would be the last. Harold was so incredibly patient and understanding of how I was feeling and made certain to take it slow with me while still challenging me to try new things, that I found that over time I started to cry less and less while driving and eventually found myself laughing and singing with Harold for the full hour and a half that I was driving with him. Not once was I ever made to feel judged or like I had failed at a task set before me. When I did make mistakes Harold was really good at working through what happened, why it happened and identifying the behaviors to fix in order to prevent them from occurring again in the future. After a few months of practice and lessons from Harold, I am happy to announce that yesterday I went for my road test and passed on my first try! I really couldn't have done it without his help. I tell him all the time that he is a great teacher. He truly cares about your success and confidence while driving and I would recommend anyone with any kind of anxiety or fears or even someone that could use a quick refresher to go and see him.
He doesn't give up on you, is always positive, teaches at an appropriate pace for what you are needing and believes in you – even at times when you don't believe in yourself.
Thank you Harold from the bottom of my heart. I can now take my kids to school on my own and move into my dream home without worrying about how I'll get to work and back! I couldn't have done it without your help and will see you in a few years once my daughter is ready to start driving!
For those who suffer from anxiety and fear I will say this: Don't wait. Don't hesitate. Don't put it off. You aren't alone and you can get your license. If I learned anything it's that feeding your anxiety by avoidance only makes it worse. Book some lessons with Harold and if you don't trust yourself, trust him. He won't let anything bad happen and before you know it you'll be writing your own thank you letter after having passed your own road test.
Harold – you're awesome and I recommend you to everyone I talk to, including strangers that tell me "ya… I really need to get my license".
Wishing you the best and thanking you from the bottom of my heart.
Mandie C
Age 31
---
Feb 2015
 
Harold was great to have as my driving instructor. He is a very friendly person and always finds a way to make you laugh even if you continue to make mistakes.

Harold makes sure that you are aware of what you need to improve on, as well as how you are going to do it. He is a very patient person and definitely gives you a lot more confidence when it comes to driving.

When I felt like I was not capable of being a good driver, Harold ws able to change my mindset and make me feel better about my situation. He made me feel a lot more confident about driving and it was a pleasure to have him as an instructor.
Bailey H.
20 yrs old
---
May 2014

My experience with Confidence Driving School was excellent. Before starting lessons, I had anxiety about driving and taking the road test. My sister had used Harold at Confidence Driving School after also having anxiety about driving and found him to be an excellent teacher. I now agree.

Harold was understanding about my anxiety and ensured that we eased into things before heading out onto busier streets. He was patient when it took me a little while longer to master certain manoeuvres and explained them in a variety of ways until we found an explanation that clicked.

I was terrified of taking my road test, I was convinced that even with all the lessons that once I was on the road, my nerves would get the better of me and I would forget everything. However, once out on the test, I found myself instinctively doing all the things that I had been taught and I passed on my first try!

Harold doesn't teach you to take the road test, instead, he instructs you how to be a comfortable driver in many areas of the city and gives you the basic tools to handle any situation that you might encounter including those found on the road test. He starts by teaching the mechanics of driving (how to make left and right turns, change lanes etc.) and then he focuses on making you a good driver by learning to pay attention to what is coming up and ensure that you are a safe driver on the road.

After taking lessons at Confidence Driving, I feel more secure on the road, I now have the tools to be a safe driver. I would recommend Harold and Confidence Driving School to anyone who has any anxiety about driving.

Kathryn B.
---
I was overseas for 12 years and in the meantime my Driver's License had lapsed. So, I needed to go through the whole process all over again. I thought it would be like riding a bicycle, quick road test, get it over with and voila, I'd be back in the saddle. Wrong! First of all, I had become used to Asian scooter driving, which is a totally different kind of driving culture. I needed to reconvert to Canadian driving style. Needless to say, I totally failed my road test; I don't even want to go into that. Also, I totally lost confidence and developed some kind of driving anxiety and that's really uncomfortable let me tell you. So, I signed up for ten whole driving lessons with the wonderful Gwen R. She's easy going and thorough, It's a really good idea to actually over-prepare if you're lacking confidence and also badly in need of skills. (I think I was always a bit of a skittish driver back in the day). Anyway, I finally did my road test and got only 10 points off. The relief I feel today is enormous and I can't thank Gwen enough. I highly recommend Confidence Driving School and Gwen Radey, it was worth every penny. Actually, it was a really enjoyable experience hanging with Gwen and getting my confidence and skills back.
Sincerely, Gwen P.
---
I am telling you my story about my experience in trying to get my driver's license for 4 years at the age of 35. With not a lot of experience in driving, just with taking lessons. I went with 2 different driving schools. I took over 35 lessons and spent around $2000 on lessons.
I never thought I would get my license, I just wanted to give up. Everyone told me to just keep going until you get it. So I called Confidence Driving School and it was the best place I could have picked. I went driving with Harold for 2 months. I felt a lot more confident driving with Harold. He made it fun, made me laugh and wouldn't give up until I passed.
I wish I would have gone to Confidence Driving School from the beginning. I would have had my license along time ago. I would not have had to keep going for my road test and keep failing. I went over 7 times. I would think to myself, "I don't think I can do this". I wanted to give up. I would get so nervous.
When it came down to the roadtest, I would forget exactly what I had to do. Now that I can drive, it makes a world of difference. It's the little things like getting groceries, etc. I used to walk and take the bus. I never thought in a million years that I would get my driver's license. Now that I have one, it sure is a wonderful thing to have finally passed. I have to say I'm pretty proud of myself to have achieved my goal.
So this is my story. I hope it helps to encourage other people to get their license and never give up. Someone once told me that if you put your mind to it, you can do it and gain the freedom and independence.
I thank Harold for making my lessons fun and for not letting me give up on myself.
Harold would say to me when it came to the road test, 'all you have to do is cross the T's and dot the I's'.
Barbara D.
---
April 22, 2009
Dear Harold,
As I write this letter, it is nearly 11:00 PM and I just received a phone call from my 19 year old son letting me know that he is now about to drive home after a concert in downtown Winnipeg.. Like any other parent, I'm concerned that he arrives home safely. I'm writing to give you some feedback about my family's experience with Confidence Driving School.
After forty years of driving I thought I should be able to teach my son to drive. My own record was nearly perfect, my son is bright and mature for his age, and the vehicle was well maintained. In April 2007, everything was going well under my supervision until one afternoon when my son's foot accidentally slipped off the brake pedal as he slowly drove our SUV into our driveway. The SUV was stopped by the brick pillar that separates our two garage doors. Luckily, no one was hurt and the front bumper was barely scratched. However, the brick pillar was caved in just enough to cause almost $10,000 in repairs.
A few days later I phoned Confidence Driving School. Your name was given to us by friends whose son had rolled their Dodge Caravan when he drove too quickly from the gravel shoulder back onto the highway. Over the next six months my son received excellent instruction from one of your drivers. I appreciated the fact that your instructor welcomed my suggestions that my son become well acquainted with certain badly designed intersections and various routes that I knew my son would be travelling when attending U of M.
My wife and I were grateful that your instructor was willing to do the final lessons using our own SUV which has no second brake or mirror for the instructor. This boosted my son's confidence, and ours, to know the instructor had so much faith in my son's ability.
Looking back, I would say that a professional driving instructor was able to do a better job teaching my son how to drive that I could have done. I think the cost of driving lessons for my son was an investment that is just as important and investing in his university education.
Thank you for helping my son to become a conscientious, considerate, and defensive driver.
Sincerely yours,
J.King
Winnipeg, Manitoba
---
January 14, 1997
I have received driving instruction from Mr. Harold Tabin. In my opinion, he is a very conscientious, dedicated and compassionate person. I found him to be an excellent instructor.
Thanking you,
Yours sincerely,
M. LWalji, M.D. FRCP (C)
Winnipeg, Manitoba
---
March23, 2009
My children received their basic driving instruction in High School. They attained their beginner licence, and my husband and myself were beside them while they were trying to gain some experience. My husband pulled it off without the nerve wracking anxiety that I exposed my daughter to. When the beginner time had elapsed, my daughter refused to go for herr test unless she could have lessons from a proper source. I looked through the Yellow Pages, and went with Confidence. I was hoping that they would live up to their name.
The woman who appeared at our door was immediately liked by us. My daughter enjoyed her lessons, and received her licence on the first try with few mistakes. When it was our son's turn this year, we knew who would be giving him the lessons. He came in happy and positive after each lesson, and received his licence after his first try. I was going to try and save money, and do one of those do it yourself jobs, but in hindsight to have my kids learning the techniques that I have forgotten, and to have someone handling everything from A-Z, was one investment I am not sorry I made. I'm glad my kids talked me into it.
Sincerely,
Eve Sidwall
---
October 18, 2002
Dear Harold:
This letter is probably overdue, but we thought that we should take the time to let you know how Rachelle is doing. Up until now Rachelle has had one minor incidence, judgement error in a parking lot at night. Rachelle realises that driving is a privilege, and that priviledge can be revoked at any time. Rachelle is a responsible driver, and that responsibility was enforced by you.
We have heard stories about some of Rachelle's friends' driving experiences. Several had had serious accidents, and three have written off vehicles. We know that they have not taken professional private driving lessons. Paying the money up front for driving lessons is cheaper than paying the Autopac deductible, and less hassle than dealing with an Autopac adjuster.Not to mention people's safety and well being.
Thanks for putting the effort in making Rachelle a safe driver. March 2004 Rachelle's sister will be 15 ½ years old, at that time we will definitely consider Confidence Driving School for lessons.
Regards,
Estelle & Claude Régnier
---

August 3, 2006
Dear Harold (Sir);
What an experience this has been for me! For someone who had never really considered driving a car in the city but came to the conclusion that it would be necessary to care for an aged parent 100 miles away and someone who rides her bike in any traffic up to 9 months of the year but never saw herself driving a car down Notre Dame Avenue, this has been a real challenge and education.
When I was calling various driving schools, I had an idea of what I should be looking for and got as many answers as businesses contacted. I had provided the same information to all. It was only you that suggested the series of five classes, mentioned the defensive driving with more than a passing remark, and asked what my particular concerns were. That and your presentation on the two calls when we talked convinced me that your school was the one. Confidence indeed!
I have to admit that I was darn close to the "What the heck did I get myself into" frame of mind waiting for the first class. When you pulled up in that car I could see that this was a real professional act, the car and instructor were impeccable. And I caught on very quickly that I could express what I was thinking, ask all kinds of questions, expect to get corrected but always get the rational for the action. And many times I needed to be corrected more than once. The first two classes were very nerve wracking for and anxious person like me, but then I started to really enjoy myself. I love to learn and you gave me lots of opportunity to do so.
I am starting to see myself as a driving Winnipegger, not just a rural driver and Greyhound bus passenger. I have a lot to practice and a lot left to learn but I will get there!
I would strongly recommend you and your driving school to anyone that asks, please feel free to use this as a reference if a potential client might be interested. Not because it was easy (it wasn't) but because it just may be their best chance to correct bad habits, learn safer techniques, understand why they do what they do, better understand the rules and be on the way to becoming a better driver.
Thank you for opening up a whole new world to me,
Bonnie Lussier
---
Contact Us by phoning 204.771.4999 today to arrange your driving lessons!